London
Henderstone provide and fit quality kitchen worktops for London and the Home Counties and have been providing a professional service for more than 10 years. It makes sense to choose the best when you are having your kitchen redesigned and you won't be disappointed with the level of expertise and our friendly, supportive staff.
Try our instant quotation tool and get a price right now not tomorrow.
What surface should I choose for my kitchen worktops?
Many of our London customers go for a natural stone like granite because it has that certain elegance which makes it so special. It is available in a variety of colours and can be polished to a high sheen that can complement any kitchen space. It's also extremely durable and can last over 30 years if cared for properly, even a lifetime.
Other London clients opt for quartz kitchen worktops because they come in a wider variety of colours and textures compared to natural stone. They also needs less maintenance even though they are as hardwearing and long lasting as granite.
But the choice doesn't stop there for kitchen worktops with a company like Henderstone. In the past, householders in London have also gone for strengthened glass, Corian or LG worktops all fitted by our expert stone masons who have a vast amount of experience dealing with a wide range of materials.
You can browse through our online selection of kitchen worktops for your London home.
Henderstone keeps the cost of your kitchen worktops down
One of the many things that our London customers consider when they select their kitchen worktops is, of course, the cost. Henderstone are one of the most competitive companies in London and the Home Counties and we pride ourselves in trying every way we can to keep the costs down.
We source from reputable suppliers and, because we have long standing relations with them, we are able to get discounted rates. We invest in high quality templating equipment aided by sophisticated computer software which means we don't waste time getting your kitchen worktops ready. This investment also helps us to keep the costs down across the board of natural and manmade surfaces.
What do I do next?
We always impress on our customers in London to take their time before selecting the kitchen worktops they want. Come to our showrooms in Kent if you want to see and choose at first hand. If you can't get there, don't worry, you can browse our selection of styles and surfaces online , get a quote, and talk to our service staff on the phone if you have any questions.
If you are stuck for ideas, or don't know where to start, try taking a look at our portfolio page for some inspiration. You'll see how natural stone kitchen worktops can set off a space and also get an idea of the pride we take in our work.
Whichever surface you choose for your London home, you can be sure that Henderstone will be there to provide professionally and perfectly installed kitchen worktops.
Henderstone on Checkatrade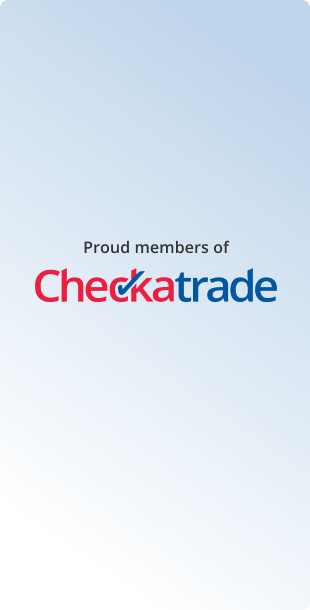 At Henderstone we are committed to excellence in customer service, which is why we are proud members of Checkatrade.  Our reviews are real customer feedback vetted by Checkatrade not made up testimonials.We listen to our customers and use our Checkatrade feedback to consistently improve our working practices and service. Here is some of our most recent feed back.
"Thank you Henderstone. Great service from start to finish and one of the most stress free aspects of our project. We were kept informed throughout, everyone was friendly and courteous and they turned up as agreed. I would definitely recommend them."
Worktop fitted in new kitchen.
"I can highly recommend Henderstone. I used them to template and fit a Silestone work top. From start to finish the Henderstone staff have been helpful with advice and answering my questions. After I had a problem with my hob they found me a slot for fitting within a couple of days of the original date, which I really appreciated. The finished work top is great quality and the finish is excellent."
"Fantastic company to deal with from beginning to end. Competitive pricing, polite and efficient communication, lovely fitters and fabulous product. Highly recommended."