Marble worktops Essex
Henderstone can add a touch of class to your Essex home with our range of luxury marble worktops sourced from the finest suppliers on the planet. We will be able to give you the advice and guidance you need from fully qualified and dedicated stone masons who have your best interests at heart.
Try our instant quotation tool and get a price right now not tomorrow.
Are marble worktops right for me?
A marble worktop can make a stunning addition to your home in Essex but you need to think about a few things before you commit to such an elegant natural stone. First of all, compared to granite and quartz, marble takes more maintenance and needs to be cared for over its lifetime.
Marble worktops are prone to staining and for this reason people often do not use them in the kitchen and they are more popular for adding a touch of majesty to a bathroom. Worktops are given a coating of sealant before they are installed but this needs to be carefully maintained and looked after if it is going to last a long time.
What do Henderstone offer?
All our staff, stone masons and support staff alike, are fully trained to give you the right experience and properly fitted marble worktops. We have over 10 years of installing kitchen worktops in the Essex area and beyond, and we take pride in the fact that we are a cut above our competitors.
We source from the best suppliers of marble worktops and ensure you get a quality product.
We use the latest, computer aided machinery to cut your worktops to precisely the right size.
Our stone masons have worked on a wide range of homes in the Essex area and their in-depth experience will mean that you get the best service money can buy.
Henderstone offer a caring and dedicated team of people who want to do their best for customers at all times.
Can I see some of your work?
Visit our portfolio page here and you will see that we take our work very seriously. Bad workmanship can mean years of strife to put right, so you need to be sure that what you are paying for is what you get. At Henderstone, we believe in being open and honest, and we provide one of the best installation services in the county of Essex.
How do I choose my marble worktops?
You can choose the style of marble from our online selection but it is always better with a natural stone like this if you can visit us personally at our showroom to see them at first hand.
How do I get a quote?
It's easy to get a quote online from our site. Measure the kitchen or bathroom worktops that you want to cover and then go to our selection menu. Just press the quote button on the one you like and the automated system will take you through all the options.
Henderstone on Checkatrade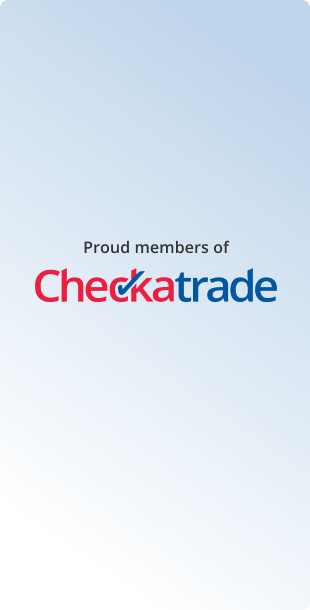 At Henderstone we are committed to excellence in customer service, which is why we are proud members of Checkatrade.  Our reviews are real customer feedback vetted by Checkatrade not made up testimonials.We listen to our customers and use our Checkatrade feedback to consistently improve our working practices and service. Here is some of our most recent feed back.
"Thank you Henderstone. Great service from start to finish and one of the most stress free aspects of our project. We were kept informed throughout, everyone was friendly and courteous and they turned up as agreed. I would definitely recommend them."
Worktop fitted in new kitchen.
"I can highly recommend Henderstone. I used them to template and fit a Silestone work top. From start to finish the Henderstone staff have been helpful with advice and answering my questions. After I had a problem with my hob they found me a slot for fitting within a couple of days of the original date, which I really appreciated. The finished work top is great quality and the finish is excellent."
"Fantastic company to deal with from beginning to end. Competitive pricing, polite and efficient communication, lovely fitters and fabulous product. Highly recommended."