Quartz worktops Surrey
If you hire Henderstone to install quartz worktops for your Surrey home, you'll be getting more than just a new kitchen top.
Our quartz worktops will transform you kitchen. Don't believe us? Then check out our gallery of recent jobs to see what a difference natural or engineered stone can make.
Try our instant quotation tool and get a price right now not tomorrow.
How are quartz worktops different?
Many Surrey householders choose quartz worktops because they are available in a bigger variety of colours and shades. Quartz worktops are made from engineered stone, a process whereby quartz grains are pressed together with resins and binding agents as well as a variety of pigments which define each slab's colour.
If you choose quartz worktops for your Surrey home you will be getting a stone quality product that is manufactured to last.
Why should I choose Henderstone?
We have been installing quartz worktops in Surrey for over ten years. From our farm house factory in Kent we can cut slabs to precise measurements to fit your kitchen or bathroom.
Our stone masons are highly skilled artists who care about each job as if it was their own home. Our support staff provide that value added extra, doing their best to guide you through the whole process and answering all your questions.
Henderstone source their quartz worktops from reputable manufacturers who produce worktops based upon a strict patent within EU standards. You can be confident that your Surrey home will have a high quality product installed by skilled technicians who know what they are about.
Our recent investment in state of the art cutting hardware has meant that we can deliver a cost effective installation to all our customers in Surrey. It's never been easier to order and have fitted a custom made, high quality quartz worktop that will have your friends and family gossiping.
Can I have a quote?
To take the first step, you can either visit our Kent showroom and view the quartz worktops at first hand, meet our staff and ask all the questions you want, or take a look at our online selection here. With something like a stone worktop it's always better to view it live rather than on a website, but we appreciate that you won't always be able to make it down to us.
It's simple to get yourself a quote online. All you need to do is measure the area of the kitchen or bathroom where you want your quartz worktops, select the style and colour and then click on the automated quote button.
And if you have any further questions, we're always available on the phone, by e-mail or in person.
Henderstone on Checkatrade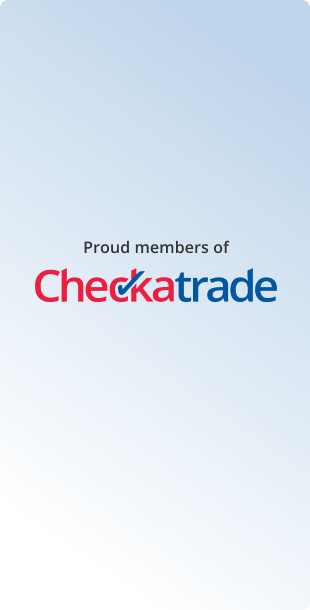 At Henderstone we are committed to excellence in customer service, which is why we are proud members of Checkatrade.  Our reviews are real customer feedback vetted by Checkatrade not made up testimonials.We listen to our customers and use our Checkatrade feedback to consistently improve our working practices and service. Here is some of our most recent feed back.
"Thank you Henderstone. Great service from start to finish and one of the most stress free aspects of our project. We were kept informed throughout, everyone was friendly and courteous and they turned up as agreed. I would definitely recommend them."
Worktop fitted in new kitchen.
"I can highly recommend Henderstone. I used them to template and fit a Silestone work top. From start to finish the Henderstone staff have been helpful with advice and answering my questions. After I had a problem with my hob they found me a slot for fitting within a couple of days of the original date, which I really appreciated. The finished work top is great quality and the finish is excellent."
"Fantastic company to deal with from beginning to end. Competitive pricing, polite and efficient communication, lovely fitters and fabulous product. Highly recommended."