Quartz worktops Kent
Henderstone is based in Kent and offers an excellent range of quality quartz worktops at a price you can afford. Our skilled stone masons have years of experience in sourcing and fitting kitchens in London and the Home Counties and we aim to provide a quick and professional service, suited to your individual needs.
Try our instant quotation tool and get a price right now not tomorrow.
Great Customer Service
If you live in Kent and you want brand new quartz worktops for you kitchen, you may have heard of Henderstone already. Our factory and showroom is based at Stone Barns, Cock Heath in Kent where we use the latest computer technology and hi-tech cutting tools to shape and design quartz worktops to your specifications.
At Henderstone, we believe that delivering a quality product at a price you can afford is all part and parcel of the service. Our stone masons have plenty of experience too, many working as apprentices alongside more skilled fitters, before they go on to work independently. Our staff all care that you get the kitchen you want and we'll do our best to make sure your dreams come true.
Quartz Worktops | The perfect complement to your Kent home
Quartz is a versatile material and as hard wearing as granite. It is available in a greater range of colours and styles because it is manufactured rather than natural stone. Many of our customers in Kent choose it because of this versatility.
We source our quartz worktops from reliable manufacturers, great brand names such as Silestone and Okite that have been delivering quality products made to the highest specifications for many years. When select Henderstone you can be sure you will be getting quartz worktops that are just right for your Kent home.
Quartz Worktops | Adding value to your Kent home
Installing a quartz worktop in your kitchen can make it a great centrepiece for your whole house. It will certainly add value to your home should you ever wish to sell it. Like granite, quartz worktops are durable and long lasting and the perfect material to make a stunning kitchen complete.
If you want to see how great your Kent home could look with brand new quartz worktops, then take a look at our gallery of past successes.
Getting a quote for your quartz worktops
Whatever style or design you are looking for, at Henderstone we will try our best to offer a competitive quote for the supply of the materials and the fitting of your new quartz worktops. Take a look at our showroom selection and then contact us to see how we can make your installation happen quickly and efficiently.
Henderstone on Checkatrade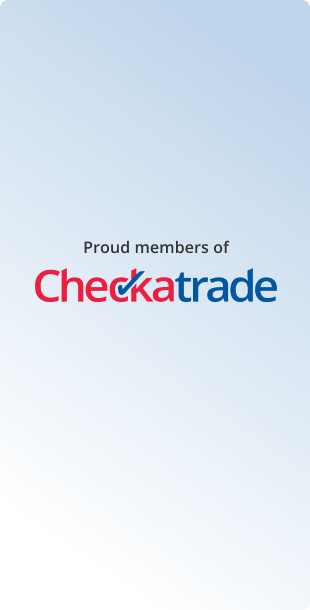 At Henderstone we are committed to excellence in customer service, which is why we are proud members of Checkatrade.  Our reviews are real customer feedback vetted by Checkatrade not made up testimonials.We listen to our customers and use our Checkatrade feedback to consistently improve our working practices and service. Here is some of our most recent feed back.
"Thank you Henderstone. Great service from start to finish and one of the most stress free aspects of our project. We were kept informed throughout, everyone was friendly and courteous and they turned up as agreed. I would definitely recommend them."
Worktop fitted in new kitchen.
"I can highly recommend Henderstone. I used them to template and fit a Silestone work top. From start to finish the Henderstone staff have been helpful with advice and answering my questions. After I had a problem with my hob they found me a slot for fitting within a couple of days of the original date, which I really appreciated. The finished work top is great quality and the finish is excellent."
"Fantastic company to deal with from beginning to end. Competitive pricing, polite and efficient communication, lovely fitters and fabulous product. Highly recommended."