Sussex
Whether you are opting for granite, quartz, marble or something else for your kitchen worktops, Henderstone has the experience, skill and service to satisfy any Sussex household. We have over 10 years of delivering excellent quality in the county and that should make us your number one choice.
Try our instant quotation tool and get a price right now not tomorrow.
Henderstone transparency
We are so confident of our workmanship that we want you to see our reviews at first hand. That's why we are part of Checkatrade.com and agree to their very rigid prerequisites for trades supplying and fitting for the public in Sussex. We had to be closely vetted before we were allowed to advertise our service on Checkatrade, and the reviews are regularly checked to confirm they are honest.
Our aim is to supply and fit your kitchen worktops to an excellent standard, giving you something durable and memorable that will have your friends and neighbours talking. At Henderstone we understand that choosing to have a new kitchen is often a big investment for Sussex households and we aim to make the process as straightforward as possible.
Kitchen worktops from Henderstone
We know that the householders of Sussex are looking for something with a little more quality than your average kitchen worktops. That's why we source from the very best suppliers across the globe, from India to China to Brazil and beyond. Our showroom in Kent is full of quality surfaces that would be just right for your new kitchen, waiting to be fitted by experienced stone masons who know their stuff.
Granite: One of the most durable and elegant natural stones used for kitchen worktops and a perennial favourite amongst the people of Sussex. It looks good, is easily maintained and can last a lifetime.
Quartz: Manmade, quality quartz kitchen worktops are popular because they have the same durability as natural stone without the need for constant maintenance like resurfacing every once in awhile. They are available in a wide range of solid colours as well as faux textures such as leather and metallic.
Marble: If you're looking for opulence and great natural colours then marble kitchen worktops may be the choice for you. They do need more maintenance than other natural stones especially in the kitchen but they can add a touch of elegance that can't be ignored. Sussex householders often choose to use a mix of stones including marble in their kitchens.
Cutting and shaping your kitchen worktops
We use the latest cutting tools in our Kent fabrication shop to produce the kitchen worktops for your Sussex home. Aided by state-of-the-art computer technology and the latest diamond blades, we are able to keep our costs down to a minimum, which means you are always getting value for money.
If you want to see how we can transform your kitchen then take a look at our portfolio page.
Choosing and getting a quote for your kitchen worktops
We'd love you to come to our showroom in Coxheath, Kent, but we realise that isn't always possible. That's why we have put together a selection of our surfaces online that you can browse at your convenience. If you measure the space that you want to cover you can also get a quote with our automated system. And if you have any questions, you can always contact us by phone and speak to an expert.
You can start looking at the new kitchen worktops for your Sussex home here. 
Henderstone on Checkatrade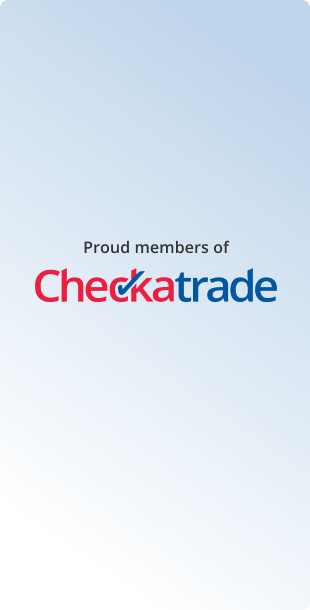 At Henderstone we are committed to excellence in customer service, which is why we are proud members of Checkatrade.  Our reviews are real customer feedback vetted by Checkatrade not made up testimonials.We listen to our customers and use our Checkatrade feedback to consistently improve our working practices and service. Here is some of our most recent feed back.
"Thank you Henderstone. Great service from start to finish and one of the most stress free aspects of our project. We were kept informed throughout, everyone was friendly and courteous and they turned up as agreed. I would definitely recommend them."
Worktop fitted in new kitchen.
"I can highly recommend Henderstone. I used them to template and fit a Silestone work top. From start to finish the Henderstone staff have been helpful with advice and answering my questions. After I had a problem with my hob they found me a slot for fitting within a couple of days of the original date, which I really appreciated. The finished work top is great quality and the finish is excellent."
"Fantastic company to deal with from beginning to end. Competitive pricing, polite and efficient communication, lovely fitters and fabulous product. Highly recommended."