Marble worktops Surrey
If you want marble worktops for your Surrey home, then Henderstone should be your first and only choice. We're a stone masons based in Kent and we have a track record of supplying high quality installations to the Home Counties and London.
Try our instant quotation tool and get a price right now not tomorrow.
Marble worktops | Should I have them?
Marble is a natural stone that comes in a wide variety of shades and hues. It can add something stunning and individualistic to your Surrey residence.
First, you need to decide if marble worktops are the right material for your new kitchen or would it be better in your bathroom? Marble needs a significant amount of care and future maintenance because it is more likely to stain than a natural stone like granite.
As with other natural stone products, marble worktops are now within the reach of normal Surrey households, due mainly to more productive sourcing and the development of better and faster cutting techniques.
In days gone by, marble worktops would have been fashioned purely by hand which could take weeks, months for more intricate designs. Now, with the help of computer templating and high grade saws, this process can be completed with exact precision in just a couple of hours.
When you combine this with a group of brilliant stone mason artisans, you have a recipe for success. Our ethos is that we won't be happy until you are happy and our staff have provided an excellent service to many households in Surrey over the years. It's something we aim to continue doing.
Can I see some marble worktops?
If you can, it's always good to visit our show room and see those potential marble worktops in real life. There really is nothing like seeing a marble worktop in natural light and will it give you an idea of the impact such an installation can have in your own house.
Our factory and showroom are at the Stone Barns, Clock House Farm, Coxheath in Kent and we'd be happy to see you and discuss all your needs.
If you can't make it, you can have a look at the colours and style on our samples page. If you measure the space you want covered, you can also get a quote by clicking on the icon beside the image. Our automated system will walk you through all the details we need.
Have you got examples of your work?
We've installed a lot of marble and other natural stone worktops in Surrey and the Home Counties over the years and you can see some examples of our endeavours on our portfolio page.
Henderstone on Checkatrade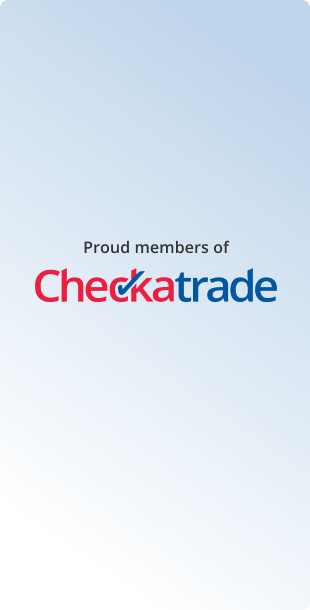 At Henderstone we are committed to excellence in customer service, which is why we are proud members of Checkatrade.  Our reviews are real customer feedback vetted by Checkatrade not made up testimonials.We listen to our customers and use our Checkatrade feedback to consistently improve our working practices and service. Here is some of our most recent feed back.
"Thank you Henderstone. Great service from start to finish and one of the most stress free aspects of our project. We were kept informed throughout, everyone was friendly and courteous and they turned up as agreed. I would definitely recommend them."
Worktop fitted in new kitchen.
"I can highly recommend Henderstone. I used them to template and fit a Silestone work top. From start to finish the Henderstone staff have been helpful with advice and answering my questions. After I had a problem with my hob they found me a slot for fitting within a couple of days of the original date, which I really appreciated. The finished work top is great quality and the finish is excellent."
"Fantastic company to deal with from beginning to end. Competitive pricing, polite and efficient communication, lovely fitters and fabulous product. Highly recommended."