Quooker
Once in a while a new kitchen appliance comes along that becomes a 'must have' in every kitchen ... The Quooker boiling-water tap is one of those rare 'must haves' that, almost overnight, has rendered the simple kettle out of date.
Although Quooker taps are relatively new to the UK, in Europe they have taken modern kitchens by storm with users loving the Quooker's versatility, whether they are using it to make a cup of tea, fill a pasta pan, or blanch vegetables in an instant. A simple tap on the worktop and hot-water tank underneath, means that you can have filtered, 100°C water for tea, soup or other drinks at the touch of a button -- without having to stand around waiting for the kettle to boil. Quooker, will save you time, energy, money and water while the aerated water flow and other safety features make it easy and safe to use, with less risk of spillage. Quooker's unique, patented high-vacuum insulation minimizes energy consumption and its standby power consumption is, in many cases, more than 50 per cent lower than a traditional kitchen boiler. Plus, you will never heat up more water than you need. The Quooker hot-water tank sits under the kitchen sink, freeing worktops from kettles and leaving wall-space free, where normally you might have a boiler. Quooker helps you keep your kitchen cleaner and tidier.
Quooker's high-tech insulation makes it the most economical boiling-water system on the market

Quooker uses a standard water filter in all its tanks (HiTAC ® water filter)

Quooker is the only manufacturer with variable-height taps

The Quooker system is easy to clean, repair and maintain

Quooker taps come in many styles

Quooker invented the boiling-water tap more than 25 years ago
Making hot drinks

Boiling vegetables

Cooking pasta and rice

Washing chopping boards

Rinsing dirty saucepans

Boiling eggs

Poaching fish
Our newest innovation the Fusion, is a single tap which unites both mixer and boiling water functions. Convenient, space saving and sleek. Incorporates a childproof double-push-and-turn handle with light ring.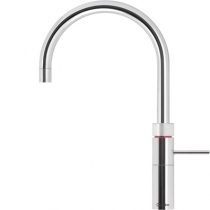 Fusion Round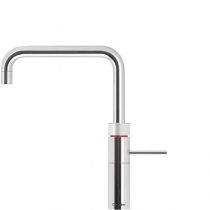 Fusion Square
Quooker's Twintaps, our matching boiling-water and mixer taps, are both practical and stylish. The boiling-water tap is height-adjustable.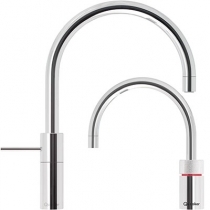 Nordic Round Twintaps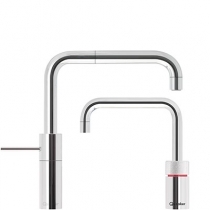 Nordic Square Twintaps
The Nordic boiling water taps from our Twintaps series are also available separately for combining with your existing mixer tap.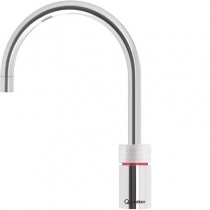 Nordic Round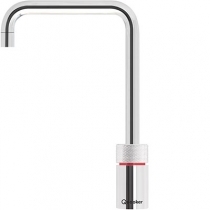 Nordic Square
Our collection offers a Quooker boiling-water tap to match every style of mixer tap. All Quooker taps have childproof push-and-turn handles, can be turned 360°, are height-adjustable and insulated.

Modern

Design

Classic

Basic
There are two types of Quooker tanks available. The PRO-VAQ ensures that you always have access to boiling water, while the COMBI offers both boiling and hot water. Each tank features our patented high-vacuum technology.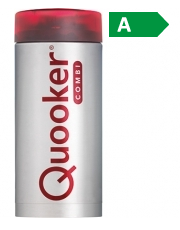 COMBI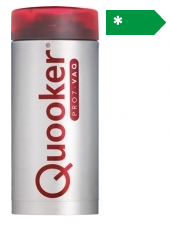 PRO7-VAQ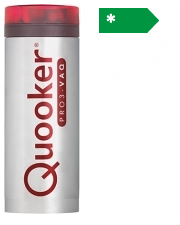 PRO3-VAQ
We offer a range of accessories to ensure that your Quooker set-up is complete, such as soap dispensers in Nordic design, mounting brackets for all tanks and the Scale Control (water softener) for use in areas with extremely hard water.

Mounting bracket PRO7-VAQ/COMBI

Mounting bracket PRO3-VAQ

Nordic soap dispenser

Water switch
The Scale Control has been developed to lengthen the lifespan of your Quooker by reducing the water hardness. It is the most reliable descaling solution for the Quooker and improves the taste of the Quooker water.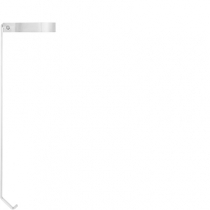 Mounting bracket Scale Control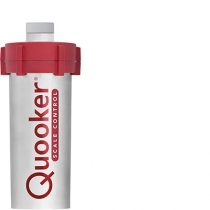 Scale Control
The Quooker COMBI is a boiling-water tap and boiler in one. A tank sits in your kitchen cupboard, connected to the cold water pipe, and dispenses boiling water (100°C) through the boiling-water tap as well as hot water (50-65°C) through the mixer tap. It's also the first 'boiler' in the world to use high-vacuum insulation. The standard Quooker offers you boiling water at the touch of a button, but if you are also want an energy-efficient, compact boiler as well, go for the Quooker COMBI. The COMBI (E) tank carries the 'A-label' European Standard for energy efficiency of domestic hot-water appliances.